Mo's So Handy! Heavy Duty Balm (Lavender & Cedarwood) 2 oz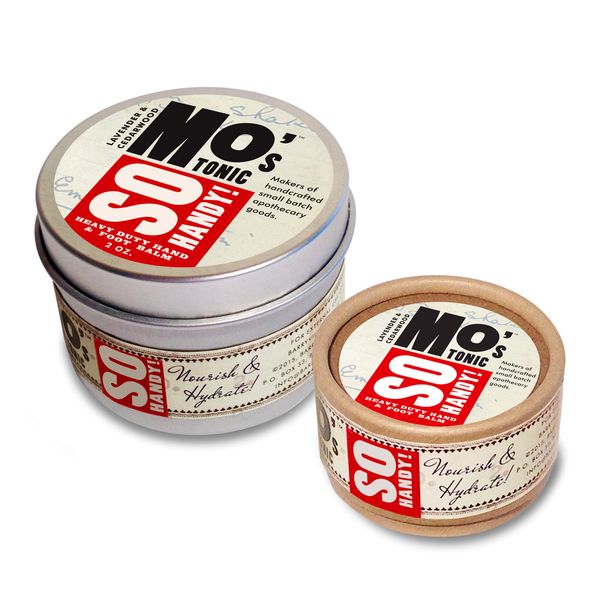 Mo's So Handy! Heavy Duty Balm (Lavender & Cedarwood) 2 oz
So Handy! Heavy Duty Balm in Lavender & Cedarwood. Available in two sizes: 2 oz Tin or adorable ecologically friendly .5 oz travel size. When you need an intensive skin moisturizer and protector, So Handy! is the workhorse of the batch. Its emollient qualities are derived from organic beeswax, cocoa butter, avocado oil, hempseed, baobob and a few other delightful ingredients. Its scent is light with a hint of rose finish, lavender and cedarwood. So Handy has been one of the best received products with men and women alike. It is perfect for any skin area that needs intensive treatment and  will help heal and protect chapped, rough or weathered skin and hands.  Your most stubborn and cracked parts will thank you. 
It's great during the winter or after a day at the beach when your skin needs some serious hydration and love. We use it as a lip balm, too!
Like all of our skin products, So Handy will soften in the heat or in your pocket. If stored in a cool place, it will require a bit more energy to massage it into your skin. It works great either way!  Remember to add your own sunscreen if you are heading out in the sun!